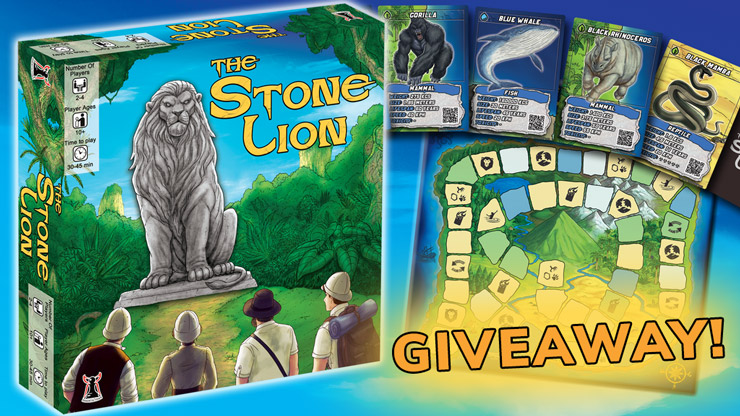 The Stone Lion – Kickstarter Review and Giveaway!
Category: Family
Age: 10+
45 - 60 Min
2 - 4 Players
2018
I'm so excited to see this game on Kickstarter. Though at first I could not get what the fuss was all about, I was flabbergasted when I was told that the gameplay has an element of the old Top Trumps card game (which Greeks know as Super Atou). True, it can indeed be played strictly as a card game, yet it is so more than that. The board alone offers a new dimension to the old classic game that it makes it so appealing to younger people too.
But I'm getting ahead of myself here. As the creators mention in their description, the whole inspiration for this board game came from a good old "what if?" What if a whale was to combat an octopus? Which animal would win? Wait, don't jump into any conclusions! If they fight based on size, I'll give it to you, it's the whale that wins. But what if they fight using —let's say— their toxicity? Boom! The itty-bitty spider will defeat the biggest living creature in the entire animal kingdom.
Now that I got your attention, I will talk a bit about the game itself. In contrast to its 60s ancestor, Stone Lion starts out as a regular dice-rolling game. Your goal is to traverse the spiral board and reach the end. Simple, right?
Hold your horses, there, for a minute.
In order to do that, you have to battle against your opponent or opponents (the more, the merrier, in my honest opinion) and, more often than not, the game itself. In the former case, players compare their statistics in one category (two if there's a tie) and they each move one square (sometimes it could be three three) ahead or back, depending on the outcome of the fight. As the recipient of an attack, you also have two special cards (at the beginning of the game, at least) which might help you tip the scales to your favor. They cannot be replenished after every turn like the animal cards, though, so use them wisely.
If you land on a "random attack" square, you roll a special five-sided die to see in which category your animal will compete against one from the deck. There's an element of chance here, but if you play your cards correctly you can make your own luck.
Why you should play it
Apart from the fact that you might play even when it's not your turn, there's also something else that makes this game so interesting and cool. The animals depicted on the hundred or so cards are real animals, some of which I had personally never heard of before. Funny I should mention that, because the cards have a QR code next to the animals' stats to make it easier for you to look them up using a phone or a tablet. Who says competitive games can't be educational?
What I particularly liked about this game is that it leaves you craving for more. I have only played it about four times, yet every time, I kept trying to develop my strategy to best my opponents. I'm not going to comment on my first ever game, though. It was like falling into quicksand. Oh, the quicksand! Did I mention the quicksand? Well, you might want to perform some dice tricks to avoid that one, because you do not want to land there. I will leave the rest to your imagination.
It's simple, fun, competitive, educational, fast-paced, and suitable for the whole family. The beautiful artwork makes it appealing to the eye and tricks you into believing it's easy to win. If you do, you have another think coming!
Why you should not play it
The only reason I can think of right now would probably have to do with the cards. If you play the game several times, maybe you'll grow sick of the same cards. However, I don't believe this issue will come up during the first several plays. Who knows, maybe there will be new cards later on?
Immortal Pawn is giving away 3 copies of The Stone Lion!
Enter Now!
The game will be given away and shipped – if The Stone Lion gets funded on Kickstarter – by Immortal Pawn. The winners are picked randomly and will be informed within a week after the draw! All giveaways follow BoardGame Stories' Terms and Conditions!