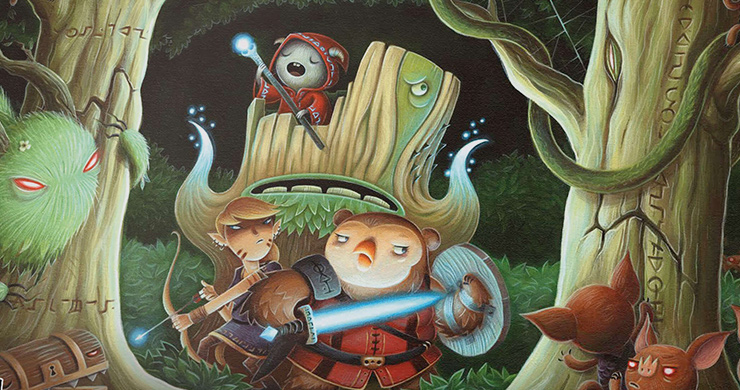 By Order of the Queen – Another Approach
Category: Cooperation
Age: 10+
90 - 190 Min
2 - 4 Players
2017
Thematic Overview
Guild masters of the Kingdom of Tessandor, we need your assistance to protect this Kingdom. Our Kings hasn`t returned and our enemies seized this opportunity to threaten our peace. By order of the Queen, gather the greatest Heroes that would give their lives for her, equip them and assign them the Quests that seem fit so we can have peace, once again.
Game Overview
"By Order of the Queen" is co-op fantasy RPG-lite board game for 2 to 4 Guild masters. The game is based in some basic principles:
Simple Game Mechanics
Strong Strategic Gameplay
Epic Story-driven Fantasy RPG Setting
These all seem to be true at a first glance to this beautiful aesthetically game which reminds these old cute RPG's with a noble purpose.
As a Guild master, you will draw a hand of heroes and in turns assign them to various quests, combat or to try and complete the orders of the Queen. Most battles and checks occur by a simple roll of dice giving you the thrill of the roll. As time goes by the kingdom's peace is disturbed more and more with darkness increasing its reach, so you have to be brave, work in unity and restore peace before it's too late.
KS Campaign
The game is right now live on Kickstarter and its already funded! It comes with more than 300 cards, 80+ tokens, 10 dice, the gameboard and of course the rulebook. Backers of the game will also get a Crossover expansion "Implands", for free along with all stretch goals unlocked. Stretch goals include some interesting KS exclusive bonuses and you can get the basic game for $49 instead of the $60 MSRP price!
The following two tabs change content below.
Theofilos K
=Teo K. here= -Freelance game designer. -Ex Game Guru. -Seasonal board game instructor. Topics I like: gamification, game theory, philosophy, phycology. As you may assume, I am a board game addict and will try to share my passion and experience in the Industry with all that love this hobby!
Latest posts by Theofilos K (see all)