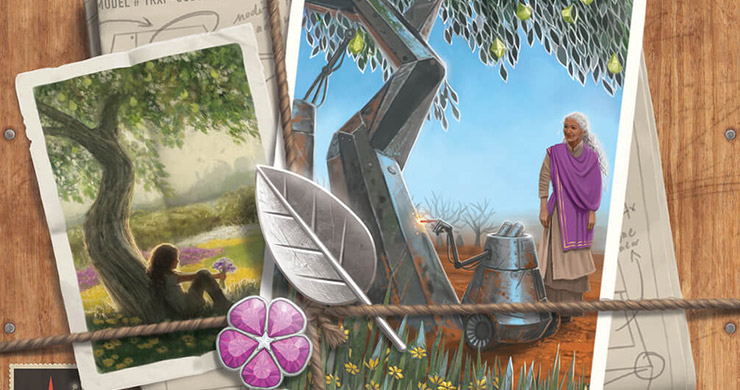 It Is Time to Make The Last Garden
Category: Strategy
Age: 13+
30 - 45 Min
2 - 4 Players
2017
The world has come to an end, and the Queen is the only one that has remained of the human kind. What she wants is to breathe new life into the beautiful gardens of her youth. But, the moisture that has been left is not enough, so she is going to call for the Robotanists. The Robotanists are robots that she has reprogrammed and will use, so as to turn metal and rare gems into a magnificent garden, the Last Garden.
You take the role of these Robotanists that compete for the Queen's favor by helping her build this beautiful artificial garden in what has been left after the apocalypse.
On each turn, you play a card from your hand that may allow you to place gems into the garden, move gems from one sector to another or change the structure of the garden. Then, you can deploy Robotanists into four different areas:
the Garden, where you gain favor according to the number of gems in your sector,
the Workshop, where the favor you gain depends on the number of gems in the sectors you are helping to assemble,
the Mines, in which the favor gained is based on the color of the gems and
the Laboratory, where you can get boosts that will provide you with powerful effects.
When a set number of days has passed, the game ends and the Robotanist that has gained the most favor is the winner.
The Last Garden has been launched on Kickstarter and is above its funding goal, while the campaign is about to run until March 29th.
The following two tabs change content below.
Ireth
I got to know the world of board games along with NinjaBoy several years ago. So we both ended up getting hooked on playing, until we finally decided to create this website, so that boardgamers from all over the world will gather around. I am a translator and a copywriter. Making this site, as well as working on it every single day, has been a great experience and we are happy to know that it has brought together people who share the same love for board games. So, choose your character, shuffle your deck and roll your dice, for there are some board game stories here to explore!