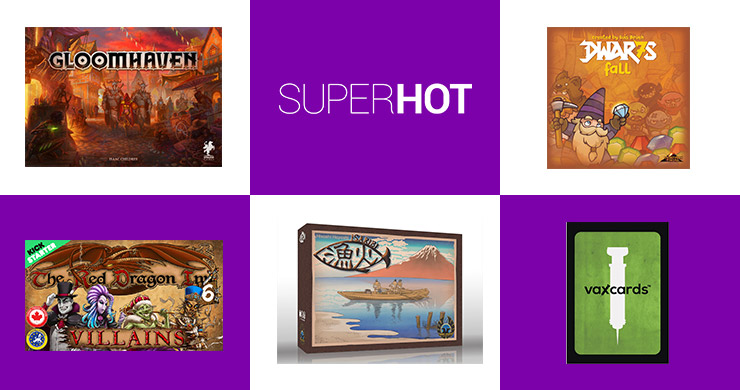 The Morning Roll – Day 28
Good morning gamers,
Gloomhaven continues to be the thorn in many backer's side as the delivery of the Kickstarter backed game is well overdue. But while we continue to wait, creator Isaac Childres has announced his next project, a board game prequel to Gloomhaven. Founders of Gloomhaven will be a smaller scale worker placement and auctioneering game set hundreds of years prior to the events in Gloomhaven, as players compete to build the city. This will be another Kickstarter that will start in February 2017.
Another popular video game is getting the tabletop treatment. This time, it's the FPS SUPERHOT being retooled as a micro deck-building game by Board&Dice, working with designer Manuel Correia and converting his deck-building game Agent Decker to fit in the SUPERHOT theme. Learn more about the wild FPS video game here. The board game is expected to come out in 2017.
Mexico is home to a popular game of chance called Lotería or Mexican Bingo, that has roots going back to the 15th century, and uses cards with artwork that is very iconic of Mexican culture. Now, an artist based out of Mexico City is reimagining the artwork from the game for an LGBTQ audience, and the results are quite astounding with tongue firmly planted in cheek! You can read more about the artist, Felix d'Eon, and the work on the website Fusion and can purchase some of the art through his online store.
And AEG has released their annual Black Box game for 2016, a collectable combat card game called Phase, where cards have a duality effects and can be combined for wicked combos. The box is in stores and online now.
Here's what you missed from Board Game Stories:
NinjaBoy takes a closer look at Vaxcards: A Game of Infectious Disease and Fun.
Ireth tells us a little bit about the fishing game Isaribi.
NinjaBoy again with a preview of The Red Dragon Inn 6: Villains.
And Ireth again who tells us about the family game Dwar7s Fall.
Thanks for stopping by, we'll see you next time!