Welcome to BoardGame Stories Land!
Leave your baggage at the Inn and let us introduce ourselves!
We are a group of people with different tastes, opinions and habits, but what has brought us together is our love for board games. Our team consists of board gamers and board game designers, and we hope to grow bigger in size and skills! We write reviews of games we like and express our personal opinions based on our gaming experience. We publish articles with news about board games that come out and/or run on Kickstarter! We also take interviews from game designers and companies that produce new games, so as to better inform people and give a bit of a background story! Finally we offer some print n play downloads just for fun, but also as a thank you to our fans and readers!
These are just appetizers! We have many things in mind and bright new ideas, in order to offer a great side-­gaming experience to all the board gaming community. All these will be revealed to you in time, as we are starting off, by the Capital of our Land and specifically the Inn in which many kinds of Stories are heard inside its walls! In time, we will expand the city limits with more buildings, places of interest and new sections will gradually be introduced to the website. So  you can expect many things to come in the near future! Don't miss out!
Now you can take a look around!
In this Land, you will learn what's going on in the world of board games. You can speak freely and comment about what you find out and talk with other fellow board gamers and if you listen closely you will hear its stories…! You can wander in the alleys, take pictures, see its landmarks and discover its secrets!
You can also sign up on our "guest book" and create a character which will give you benefits along the way, such as earning ranks and badges according to the degree of your participation (reading articles, commenting, daily visits, etc).
Note that if you want to become a contributing member of our team, author, journalist, etc, or if you are an entrepreneur who just arrived to our Land with brand new ideas and you would like to settle down and share them with us, just fill out the contact form or send us an email!
Now it's time to meet the contributing and founding members of this great Land: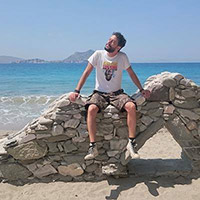 Class:
Co-Founder, Author
Favorite Games:
Seasons, Arkham Horror, Robinson Crusoe, Descent
Special Abilities:
Playing Bass Guitar, Listening to Music, Taking Walks
Background Story:
I am a Web Developer and I 've been wandering in the world of board games for about 10 years now. I'm really excited to have created this website with the woman I love (the little elf on the right), since board games are our mutual hobby. I feel blessed to have found people to work with, that share common goals and dreams with me!
We all want to create something beautiful for the board gaming community, which will co-exist and play along (!) with the games that come out. I would call this website a game for all board games!
Class:
Co-Founder, Author
Favorite Games:
Tzolkin, The Castles of Burgundy, Betrayal at House on the Hill
Special Abilities:
Reading Books, Listening to the Music I Love, Going Out With Friends to Explore New Tiles on the City Map
Background Story:
I am that little elf and I got to know the world of board games along with NinjaBoy several years ago. So we both ended up getting hooked on playing, until we finally decided to create this website, so that boardgamers from all over the world will gather around.
I am a translator and a copywriter. Making this site, as well as working on it every single day, has been a great experience and we are happy to know that it has brought together people who share the same love for board games. So, choose your character, shuffle your deck and roll your dice, for there are some board game stories here to explore!
Name:
Theofilos Koutroubis
Favorite Games:
Mutant Meeples, Bohnanza, Seasons & more.
Special Abilities:
Watching Anime-Movies-Series-Theatrical Plays, Reading Books & Manga, Martial Arts
Background Story:
I am a university student in Thessaloniki, studying Applied Informatics. I also work as a game designer, something that I got my hands into almost three years ago. I love to read books but my main focus is on the fields of gamification, game theory, philosophy and phycology with my thesis in Cognitive Phycology.
As you may assume I am a board game addict and will try to share my passion and experience on the industry with the population of BoardGameStories!
Name:
Manolis Koutroumpis
Favorite Games:
Devastation of Indines, Star realms, Carcassonne, Kingsburg
Special Abilities:
Playing video games, Listening to music, excercising, strolling through the park
Background Story:
Chemical engineer that got into the beautiful work of tabletop games. Fan of games with lots of replay value and minimum luck. Working part time as game master while finishing my master.
Favorite Games:
Shadows of Brimstone, Kingdom Death Monster, Tyrants of the Underdark, Dice of Crowns, Zombicide
Special Abilities:
Reading Books and Rule Books, Watching Movies, Video Games, Sports, Traveling, Adventuring with my wife
Background Story:
I have always been a gamer and through the years I have moved from one focus to another but I have always maintained an interest in board games and with the massive growth in the board gaming industry over the pass five years this is the golden ago of games with tons of chooses. With all these chooses comes tons of rule books and rules to understand well that is where I come in I have been making videos teaching how to play games now for about a year and a half and it has been a huge learning experience both in how to create the videos and learning the games. so lets head to the table and I will teach you how to play!
Username:
Cardboard Rhino
Favorite Games:
Dominant Species, Tash-Kalar, Evolution
Special Abilities:
Comedy Lover, Ukulele Player, Aspiring Poledancer
Background Story:
I have always been into the whole gathering up and playing ritual of boardgames and was almost raised inside a boardgame cafe!
I play games, I studied games at the uni(together with other unrelated subjects) and I attempt to design games.
You can see my reviews and videos of Kickstarter roundups on my youtube channel and drop me a line anytime if you want reviews or just good company for playing!
Name:
Vasilis Souvatzoglou
Favorite Games:
Twilight Struggle, L5R, Bloodbowl, 7 Wonders Duels, Shadowrun RPG
Special Abilities:
Vast network of connections to every adventurers Guild, Storyteller by trade and in possession of the sacred and magical Tome of the Innkeeper
Background Story:
Former adventurer that settled down and became an Innkeeper, I still dabble in the magic of gaming when my duties allow it and always love a good challenge. Running the Dragonphoenix Inn, a gaming cafe for the better part of my life after spending my youth knee-deep in RPG's, Card Games and PC gaming.
On my spare time, I can be found reading, mostly sci-fi and horror nowadays, dancing like a maniac and having the occasional glass of Gin(in case you want to buy me a drink someday).
Username:
TableTop PaintLab ThaBz
Favorite Games:
Mythic battles pantheon, warhammer shadespire/40k, terraforming mars, voyages of Marco polo,this war of mine,imperial assault,mansions of madness
Special Abilities:
reading rulebooks, watching tv series, board game/wargame shopping and playing, playing with my daughters
Background Story:
Fan of tv series, movies and graphic novels, I like to play games that tell stories. That led me to start painting the miniatures of my boardgames and then models for war games and miniature games in general. I also like to build and paint terrain that matches the game for more immersive experience. I think miniature painting is an easy enough hobby to start if you have the right guidance and it is a process that rewards you with the final result. So, if you are interested, come to my channel to see my painting guides and start your journey to the hobby.