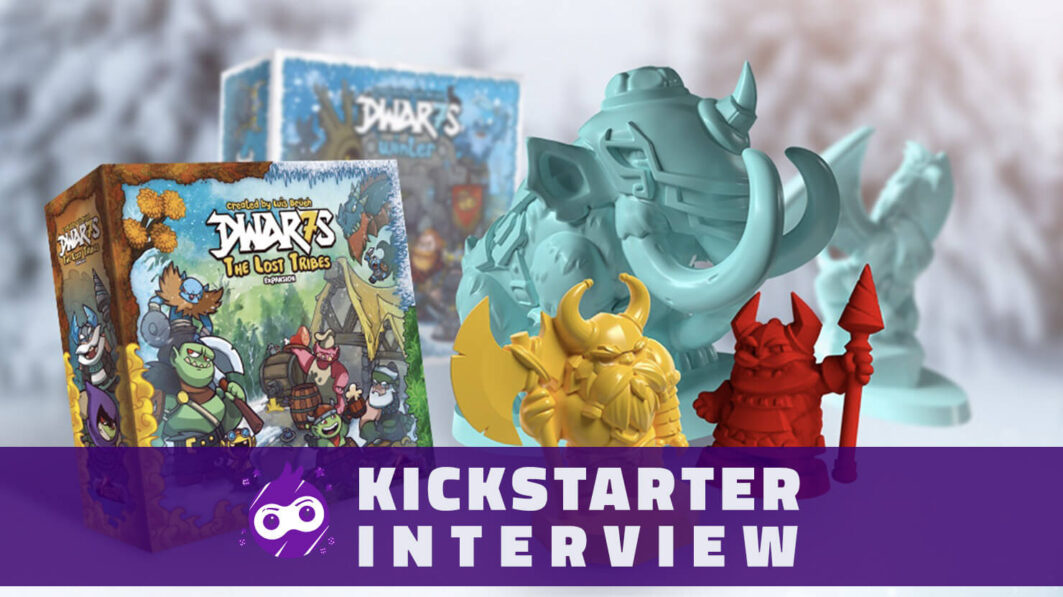 Dwar7s – Kickstarter Interview
Category: Interviews
Age: 12+
45 - 60 Min
1 - 4 Players
2022
Interview with the designer of Dwar7s!
1. Hello! Please tell us a few things about yourself!
Hi! My name is Luis Brüeh, I'm a board game designer and artist from Brazil, now living in Halifax, Canada. I'm very passionate about world building in tabletop games and how to create really fun shared experiences.
2. Please give us some info about Dwar7s Winter. What is the game about?
Dwar7s Winter is the second installment in the Dwar7s world. In Dwar7s Fall, we built our kingdom, now it's time to work together to defend it from the monsters that are invading us!
3. What is included in the Lost Tribes expansion? What does it bring to the table?
The Lost Tribes expansion brings 3 asymmetric tribes to Dwar7s Winter, and also Dwar7s Spring. The Half-bloods are a nomad barbaric faction, while Crystal Dwarfs are better at gathering, and ogres are very cunning and add a lot of interesting moments to the games!
4. What was the greatest challenge that you faced during the designing and development of the game?
Designing the Lost Tribes expansion was particularly challenging because we already had the lore and the tribes in Dwar7s Fall. Continuing their story while making an expansion that is compatible with two other completely different games, and all of the previously released expansions, was a huge workload! But we needed that to prepare the whole plot that will lead us, in the future, to Dwar7s Summer. So it also was a lot of fun!
5. Would you like to share some key elements that you are excited about?
During this Kickstarter campaign, we will be running daily goals (stretch/social goals), so a LOT of the things I love about the Lost Tribes expansion are still a bit of a secret at this point. I can tell you that I'm really excited about the new full cooperative game mode for Dwar7s Winter. It's the social goal on day 2. I love how it turned out. I also love how each of the tribes also works with Dwar7s Spring. It was a definitely a design challange to but worth it!
6.What kind of gaming experience does Dwar7s create?
The Dwar7s games bring different experiences to each game, with a growing story arch. So Dwar7s Fall is a very light game about building a castle and gathering supplies for winter. Dwar7s Winter is a tower defense game where you must work together to survive the monster invasion. Dwar7s Spring is a massive engine building game where you are expanding your empire through the lands while invading the monsters' lairs and raising and training dragons!
7. What kind of players are going to enjoy the game?
If you are into having fun with your family and friends in a cheerful and beautiful world filled with dwarfs, while creating engines, managing resources, interacting with players, with very little luck factor (there are NO DICE in any of my games!), then my games are for you!
8. Since we have all 4 Seasons of Dwar7s and quite a few expansions, what can we expect in the future for this game?
Dwar7s Summer is scheduled to be released on Kickstarter in Summer 2022, we are working on that as we speak. Not that much can be revealed at this point, but let's say that raising so many dragons may not have been the best of ideas and it all ends in flames! We will also have a final expansion to the seasons saga, connecting all 4 Dwar7s games in one story arch.