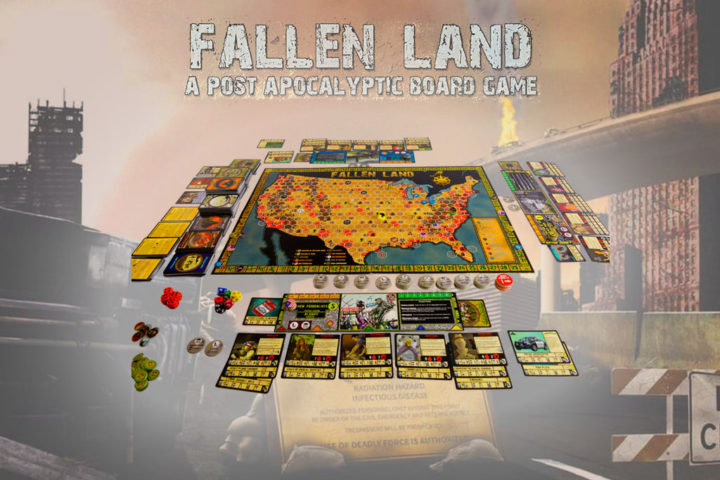 Exclusive Interview With the Creators of Fallen Land – Running Now on kickstarter!
Category: Interviews
Age: 14+
120 - 300 Min
2 - 5 Players
2017
"We are really excited to publish this article on our website since we got the chance to get an exclusive interview with the creators of this much promising and exciting board game! We have also included photos of cards never seen before that will be given away to three lucky gamers around the world! Stay tuned for more information!"
Live the Adventure in Fallen Land: A Post-Apocalyptic Board Game!
The Great War has taken place and what little remains unscathed by it, is quickly corrupted by the Maddening, the long years following the Great War. The world has gone mad and chaos and violence reign supreme. As food and supplies dwindle, the riots, looting and murder have now been replaced by the harsh reality of starvation, cannibalism and genocide. Armed gangs roam the ruined cities and desolate countryside preying upon the weak. The Maddening rages on for many dark years.
Over time, fortified settlements arise from the ashes. The largest of them unify to create powerful factions that promise trade and protection. After a successful meeting, the ten most prominent of them result in the formation of the Council of the Ten Towns. However, behind closed doors they continue to ally and scheme against one another, jockeying for dominance over the Fallen Land. Meanwhile, chaos still reigns out in the wastes. The Eaters, Reavers and highway gangs which thrived amidst the chaos and violence of the Maddening remain at large, each independently seeking to return the land to the chaos from whence they spawned. And still greater threats lurk in the shadows. Hidden and poised to strike…
Set in post-apocalyptic America, Fallen Land: A Post-Apocalyptic Board Game is a hybrid thematic board game, combining the elements of a strategy board game with card building and role-playing. It is driven by macabre stories of a world gone mad and features adventure, politics and economics, offering unlimited replayability and sandbox style game play. Each game the players must adapt to the ever-changing variables: cards, stories, interactions and threats. The game has a strong pulp influence and its roots stem from Cold War studies.
Have you ever thought what would happen after a nuclear and biological apocalypse? The answer is Fallen Land. Each one of you takes on the role of the leader of a faction of survivors vying for supremacy in the aftermath of this apocalypse. You must manage and enhance your town, protect your citizens and claim resources. You will deal with bribery and betrayal by the other players, so making and breaking treaties will help you to endure. Moreover, you will send your agents to explore the ruinous landscape and establish your territory.
A player wins the game by achieving either 20 Prestige, which represent your reputation as a leader and your Faction's prominence or 80 Town Health, which represent the number of your town's citizens and its prosperity.
The game contains ten Town Plat Mats, for each one of the unique factions, displaying their information, specialties and perks. There are, also, many types of cards: Character cards with their base skills, stats and special abilities, Spoils cards that equip characters, Action cards that modify the story and the game play, Plains Encounter cards, Mountain Encounters cards, City/Rad Encounter cards and Mission cards with complex story lines. In addition, it contains numerous game tokens and chips, as well as D10 and D6 dice.
Be ready for this post-apocalyptic experience and enjoy many exciting hours of game play!
Fallen Land: A Post-Apocalyptic Board Game has been launched on Kickstarter, where you can back it and it will be running until September 4th. It is planned for release in 2017. Let's all help bring this game to life!
These are exclusive photos of  game cards! Stay Tuned because when we get our hands on these cards they will be given away to three lucky guys out there!
What follows is an exclusive interview with Jon Lonngren and Sean Cahill the creators of Fallen Land and owners of Fallen Dominion Studios:
What inspired you to make such an epic proportions hybrid game?
Jon: "Sean Cahill and I wanted to design the game that we always wanted to play, but that didn't exist.  We also wanted to combine the elements of a strategy board game, with card building and light roleplaying–a hybrid style sandbox board game.  Players could go anywhere, do anything.  We wanted a game that also had unlimited replayability."
What was the most difficult part that you had to deal with during the eleven years of designing and development of the game?
Sean: "To me, the most difficult part was helping to proof reading all of the stories, editing and also designing and laying out the rulebook."
Jon: "For me, the most difficult part was balancing my 75-80 hour work week schedule with family time.  Also, writing the massive volume of stories and the long process of refining them and editing them.  Also, coordinating and managing the project was always a daily challenge.  Making sure the project was always moving forward."
What kind of experience for the players do you want to create with this game?
Sean: "We want to create challenging, environnent.  A game people, from all walks of life, will want to play over and over again."
Jon: "We have tried to create a unique gaming experience–one that people will talk about long after the game is over.  We wanted people to have a different game, stories and players to face new challenges each time they played.  Something that would never get boring or old."
What kind of gamers does this game appeal to?
Sean: "We want it to appeal to everyone–men, women, young and old."
Jon: "Yes, we tried to create a game with a little something for everybody.  I would like to think we succeeded."
What can we expect to see from Fallen Dominion studios in the future?
Jon: "Fallen Lands: A Post-Apocalyptic Board Game is slotted as the first of several upcoming releases for our studio.  Fallen Dominion Studios LLC, is currently working on several other games as well.  And of course, there will be expansions for our first release."
Sean: "We want to put out a big box expansion for Fallen Lands.  I look forward to working on the next project for Fallen Dominion Studios."
Thank you very much and I hope that Fallen Land gets funded because it seems like a great game, you have put too much effort on this and you deserve it!
Jon: "Thanks for the opportunity to talk to you guys!  We can't wait for you to play the game."
Sean: "Yes, thank you!"
Jon Lonngren is the creator of Fallen Land and owner of Fallen Dominion Studios. He is Project manager, writer and tertiary graphics design, since 2005.
Sean Cahill is the creator of Fallen Land and owner of Fallen Dominion Studios. He is Lead graphics designer chief analyst and tech guru, since 2005.