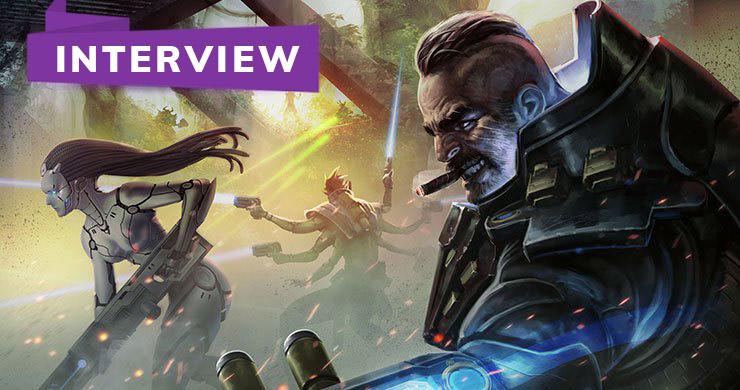 Sine Tempore – Interview with Ludus Magnus Studio Team
Category: Interviews
Age: 14+
30 - 60 Min
1 - 4 Players
2017
We had the opportunity for a quick interview with the studio behind one of the latest Kickstarter hits,  "Sine Tempore".  Enjoy!
First of all, would you like to let the world know more about "Ludus Magnus Studio"? What's your story and in what kind of games is your focus on?
Our motto is "By enthusiasts for enthusiasts". The idea was to create a board game that revolutionised the market, but Monopoly had already been invented. So we decided to "make do" and create a tactical miniatures board game that merged the typical characteristics of Skirmish with those of "Dungeon Crawler: Nova Aetas".
The company mission is to create board games by mixing different types of genres, inspired by different forms of play (e.g. video games or films). We work hard to make sure that every game is of the highest quality, from every point of view.
Right now, you are about to launch one of your games on Kickstarter. "Sine Tempore", a tactical co-op, will launch on May 16th. What's the inspiration behind this sci-fi epic game?
"Sine Tempore" is the result of the need to expand and develop our universe. Essentially, each of our games is a piece in our narrative "puzzle". Having already developed an historical fantasy game, the decision to make a sci-fi game seemed to be the most obvious. Settings such as "Warhammer 40k" and "Starcraft" strongly influenced our preferences on how to develop the characters, while design choices were inspired by the elegance of "Passenger".
What was the greatest challenge that you faced during the designing and development of the game?
Our greatest challenge was definitely figuring out how to manage the high number of variables that come with a game like this, for example how to balance the various skills and equipment. As we were developing the game, it was a great help to have such a clear picture of the final version of "Sine Tempore". All we needed to do was put the pieces together.
Which is the element or mechanic that you think that stands out the most on the game?
The Momentum, without a doubt. It's a mechanism that we developed for "Nova Aetas" and which was also used in "Sine Tempore". This mechanism allows the smooth control of character activation, eliminating fixed and repetitive turns where each player moves and acts before passing their turn to the next player, who will then do the exact same thing. Moreover, the Momentum allows us to trigger events at specific times during the game, just like a real clock, regardless of the players' actions.
What kind of gaming experience do you want to create with this game to players and for what kind of gamers is it suitable for?
It's definitely a game that concentrates on the narrative development of the campaign, with a strong focus on the growth of the Heroes. So it's perfect for lovers of Dungeon Crawler and tactical games, but in reality anybody would find it entertaining and innovative thanks to the unique mechanisms.
What else can we expect in the future from "Ludus Magnus Studio"?
Ludus Magnus Studio is still an Indie company, whose aim is to improve project by project, so as to offer a product worthy of a competitive and demanding market such as the gaming one.
At the moment we're working on another two games: "Pets" and "Black Rose Wars", which will contribute to expanding our narrative universe. We'd like to make the most of this last question to thank all of the staff at Boardgame Stories for the opportunity to speak about our projects, and to ask for all of your support as we set forth on this new adventure!
If you are interested in the game you can find out more on our article and check out the Kickstarter campaign!
Other Stories!