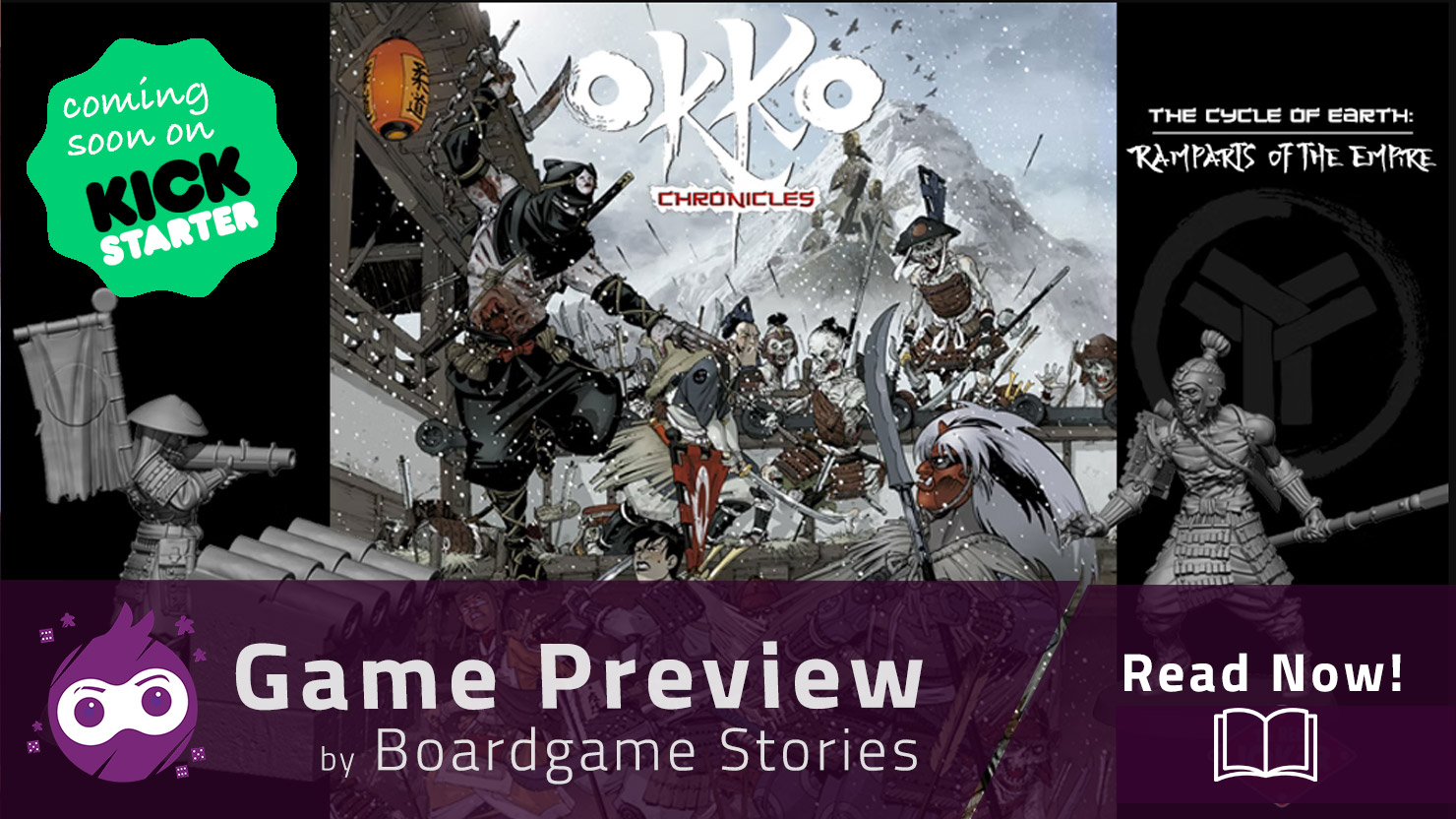 Okko Chronicles – Ramparts of the Empire
Category: Cooperation
Age: 14+
60 - 90 Min
1 - 5 Players
2023
"IN THE HEART OF THE IMPRESSIVE SEVEN MONASTERIES MOUNTAIN RANGE, OKKO AND HIS COMPANIONS INVESTIGATE A CULT WITH A MYSTERIOUS RAVEN SYMBOL.
THEY DISCOVER WITH FRIGHT THAT THESE MONKS ARE GATHERING AN ARMY OF UNDEADS IN ORDER TO OVERTHROW THE PAJAN EMPEROR AND INSTITUTE A NEW ERA, THAT OF KARASU! TAKING REFUGE IN A FORTRESS BUILT ON AN ISOLATED PASS, OUR HEROES ARE AWARE THAT THE STONE WALLS SURROUNDING THEM ARE THE LAST RAMPARTS PROTECTING THE EMPIRE FROM THE COMING WAVE OF UNDEADS…
A MESSENGER IS SENT, BUT UNTIL HE RETURNS WITH THE IMPERIAL ARMY, OKKO AND HIS COMPANIONS HAVE NO CHOICE: THEY MUST DEFEND THE STRONGHOLD! UNFORTUNATELY, A POWERFUL NINJA BACK FROM THE DEAD HAS ALREADY INFILTRATED THE PLACE…"
EXTRACT FROM TIKKU'S MEMOIRS.
Okko Chronicles – Ramparts of the Empire features the legendary Rônin and his fellow travelers who, taking refuge in strongholds scattered throughout the mountains, must fend off the countless invading armies of Karasu before they breach the Pajan. During a game, each player will choose to embody one of the Heroes. Together, they will have to make the best decisions to ensure that the fortress can withstand the repeated assaults of the undead.
During a game, players choose which heroes they wish to play as and fight to keep the fortress they are protecting from falling under the tide of undead summoned by the Karasu monks. In addition, they must take care of Black Tiger, a ninja who has returned from the dead.
Okko Chronicles – Ramparts of the Empire is a 1-5 player game that can be played solo, cooperatively or semi-cooperatively. It introduces a Tower Defense mechanic but the heroes will also have to complete various objectives and make difficult choices to win the scenarios.
Other Stories!